There's an old proverb that says, "everything comes to him who waits". So probably thought Paul, previously known by the name of Mr. Pooty.
Despite the ideas that cats are very independent creatures and don't care about anyone but themselves, they actually get very attached to their human friends. That is why being surrendered is always a traumatic experience for any cat.
In 2018, Toronto Cat Rescue got a new settler – an adorable, curious and a little bit shy Mr. Pooty. Since then, he spent almost 3 years at the organization's partner clinic in Kitchener, where he was very well taken care of. Why did it take so long to find a home for him? He has severe food allergies that will cause issues if he is fed the wrong food, and he's currently on 2 different medications. Ayr Animal Hospital's staff did their best, but their attempts to make Mr. Pooty a clinic cat were unsuccessful – he needed a quiet home to thrive.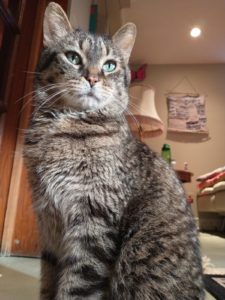 The clinic staff and the employees of Toronto Cat Rescue understood that, and posted online that Mr. Pooty is looking for a home. At the same time, a staff member from Lennox Animal Hospital was looking to adopt a cat.
What a wonderful coincidence! After almost 3 years of waiting, Mr. Pooty (now Paul) has moved to his forever home. Paul's new family reports: " He deserves a good home, and I'm glad to be the one to make him happy. He is a very special boy, so affectionate and loving".
After just 3 months in his forever home, Paul's fur is looking better, and he has learned to respond to his name. Under the careful supervision of Dr Farag and Paul's family, he is to live a long and happy life, enjoying the time with those who love him.