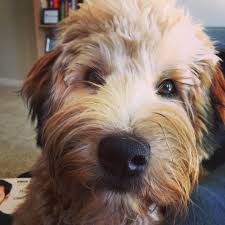 At fourteen years of age, Kelsey the Wheaton Terrier still acts like a puppy, bouncing and prancing with her kids, Caitlin & Russel.  She is a leap year baby, which may account for her eternal youth.  According to her groomer, Kelsey is a graceful dog, who is further described as a "really classy lady who grew well into her age".
Kelsey has displayed a number of interesting quirks over the years.  Whenever the children went swimming, Kelsey would watch as they jumped off the rock, then quickly dive into the water and rescue each one of them, literally dragging them back to the shore.  When she first moved to Mississauga, she made it her mission to meet and greet all of the neighbors, even though it meant making a number of daring escapes from the backyard.  Whenever her face is cleaned, the family stands back since Kelsey begins to sneeze in rapid succession for up to thirty times.  And Kelsey demands evening snuggles; as soon as Caitlin sits down in a particular chair, Kelsey hops up onto her lap.
Kelsey is a friendly loveable dog, who in turn loves everyone and every other pet….. well almost.  Mailmen and Beagles are a personal non grata.